The neckline and sleeves of your wedding dress are a reflection of your unique style, and they are crucial in achieving the ideal bridal look. With so many alternatives, it's important to keep up with the most recent styles and choose the perfect mix for your special day. To assist you in making an educated choice and to appear absolutely lovely as you say "I do," we've listed the most recent necklines and sleeve styles for wedding dresses. These dresses pictured below will be available soon within the highly anticipated Calypso line by Milla Nova.
Necklines
Plunging V-Neck
The risky yet exquisite plunging V-neck lengthens the neck and highlights the décolletage. Brides who want to make a statement while retaining a chic, contemporary aesthetic will love this dramatic neckline. Consider choosing an illusion panel for more support and coverage to maintain the look acceptable. Take a look at Inessa, which was recently ordered. 
High Neck
The high neck, which embodies grace and sophistication, is a classic option for brides seeking a modest and stylish silhouette. This neckline works beautifully with delicate lace details and can be worn with a variety of sleeve options, giving off a vintage charm and refined elegance. Elvira, as pictured above, offers a sleek high neck design. 
Off-the-Shoulder
The off-the-shoulder neckline is romantic and feminine, showcasing the collarbone and shoulders, making it an attractive option for all body types. With sleeves that range in length and design from delicate cap sleeves to dramatic long sleeves, this adaptable neckline may give your wedding dress a whimsical and alluring feel. Violet embodies this look perfectly.
Square Neckline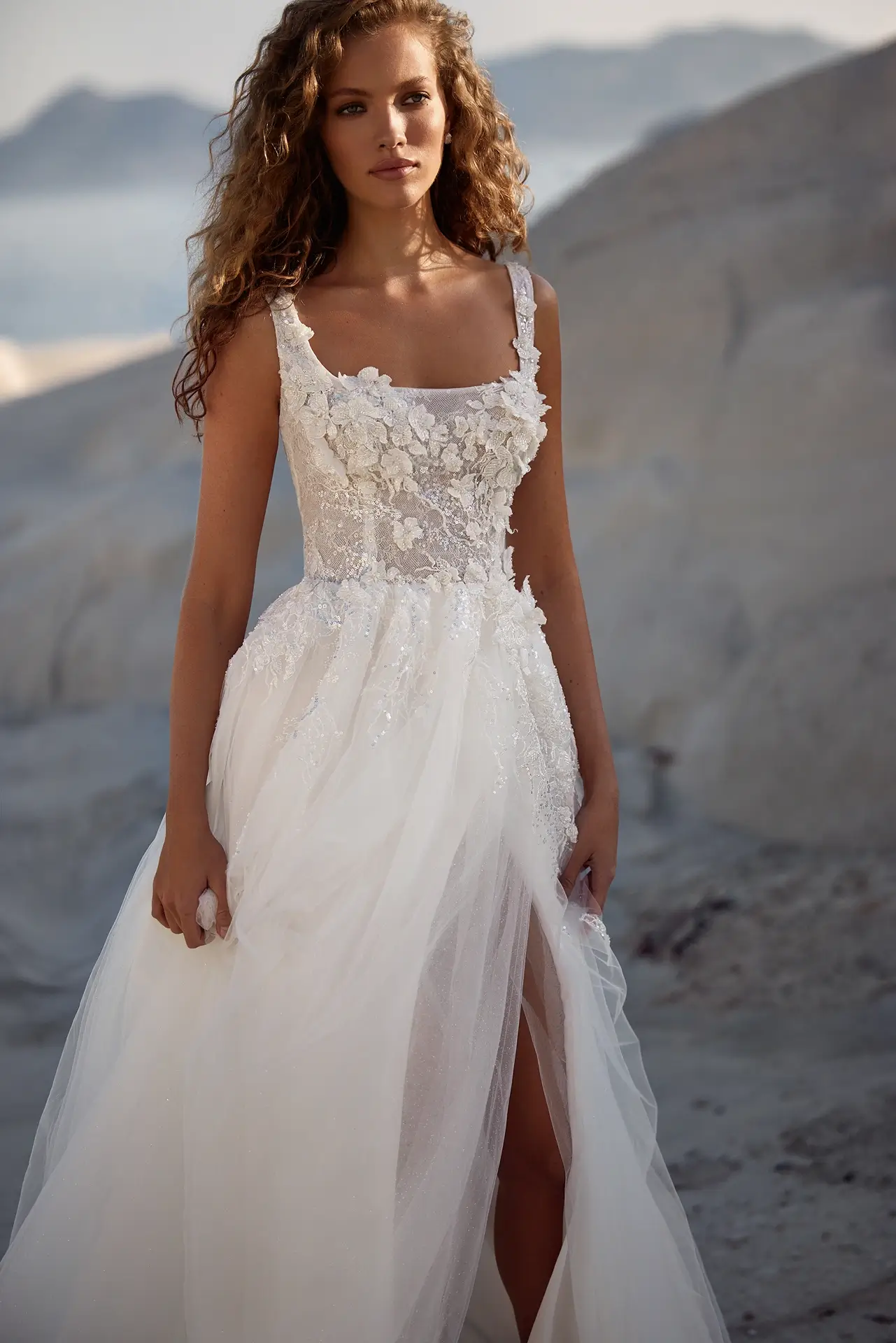 The square neckline offers a distinctive and contemporary alternative to the traditional sweetheart design, with a nod to the '90s revival. For a modern take on a formal gown, this neckline offers a simple, geometric shape that accentuates the décolletage and goes well with simple patterns or elaborate lace work. Giorgina, as pictured above, demonstrates the square neckline with intricate floral lace. 
Sleeves
Puff sleeves
Puff sleeves, which have made a successful resurgence in recent bridal fashion, can let you channel your inner princess. These striking sleeves can be made to fit your personal style choices, ranging from delicate cap sleeves to full-length bishop sleeves, giving your wedding dress a romantic touch while also offering more covering. Libertine includes off-the-shoulder puffy sleeves. 
Detachable Sleeves
Detachable sleeves are the ideal solution for brides who want to vary their appearance throughout the course of their wedding day because versatility is a fundamental component of contemporary bridal fashion. This choice gives you the best of all worlds because it makes it simple to change from a strapless or sleeveless ceremony gown to a sleeved reception dress. Leah, from Calypso by Milla Nova, is one of our most anticipated dresses to come. 
Conclusion
It's important to embrace your originality and highlight your distinctive beauty when searching for the ideal wedding gown. You may confidently choose a gown that complements your own style and makes you feel your most attractive on your wedding day by keeping up with the most recent neckline and sleeve trends. Enjoy your dress search!