At Perla Bridal, we recognize that selecting the ideal wedding gown is only half the battle; the other half is making sure that it perfectly fits you. We have years of expertise making ladies look and feel their best on their special day as a leading bridal shop in Las Vegas, Nevada. We share our knowledge on wedding dress adjustments in this blog article, highlighting the dos and don'ts to make finding the ideal fit simple.
Do's:
Select a trustworthy seamstress or tailor:
It's critical to choose an experienced specialist for your changes. Do some research on regional experts in bridal alterations and get referrals from friends, relatives, or your bridal boutique. Never be afraid to ask for examples of their prior work to make sure they have experience working with delicate wedding garments.
Plan your first fitting in advance:
Start working on your alterations at least two to three months before the big day. This gives plenty of time for numerous fittings, adjustments, and any unanticipated problems that could occur.
Dress appropriately for each fitting by donning the undergarments and shoes you'll be wearing on your wedding day. It is essential that these are present when having your dress altered because they might have a big impact on how it fits.
Be upfront with your seamstress when communicating:
Be honest and up forward about the fit you desire for your dress, and don't be afraid to express any concerns. Collaboration is essential since your seamstress is there to assist you get the style you want.
Keep in mind the comfort of the dress: While you want your gown to appear lovely, keep in mind that you'll be wearing it for a considerable amount of time on your wedding day. To check that the dress is cozy and easy to move in during your fittings, walk, sit, and dance.
Don'ts:
Don't forget to bring your jewelry, veil, and other accessories to your fittings. These things can alter the overall appearance and make it easier for your seamstress to make the appropriate alterations.
Don't rush the process:
Good modifications require time, so don't push your seamstress too quickly. It's preferable to schedule many appointments to guarantee perfection rather than hurrying and maybe getting a less-than-ideal fit on your wedding day.
Ask your seamstress any questions you may have if you have any doubts or worries regarding a certain component of your changes. They're there to help you through the procedure and make sure you're satisfied with the outcome.
Keep your weight consistent during the alteration process. While some brides may be motivated to shed weight before their wedding, this is important to avoid. Significant variations can make getting the ideal fit more challenging and might call for more expensive changes.
Don't accept anything less than ideal:
You should feel attractive and confident on your special day because your wedding gown is an investment in you. Speak up and work with your seamstress to make the necessary adjustments if you're not happy with the way your dress fits or feels.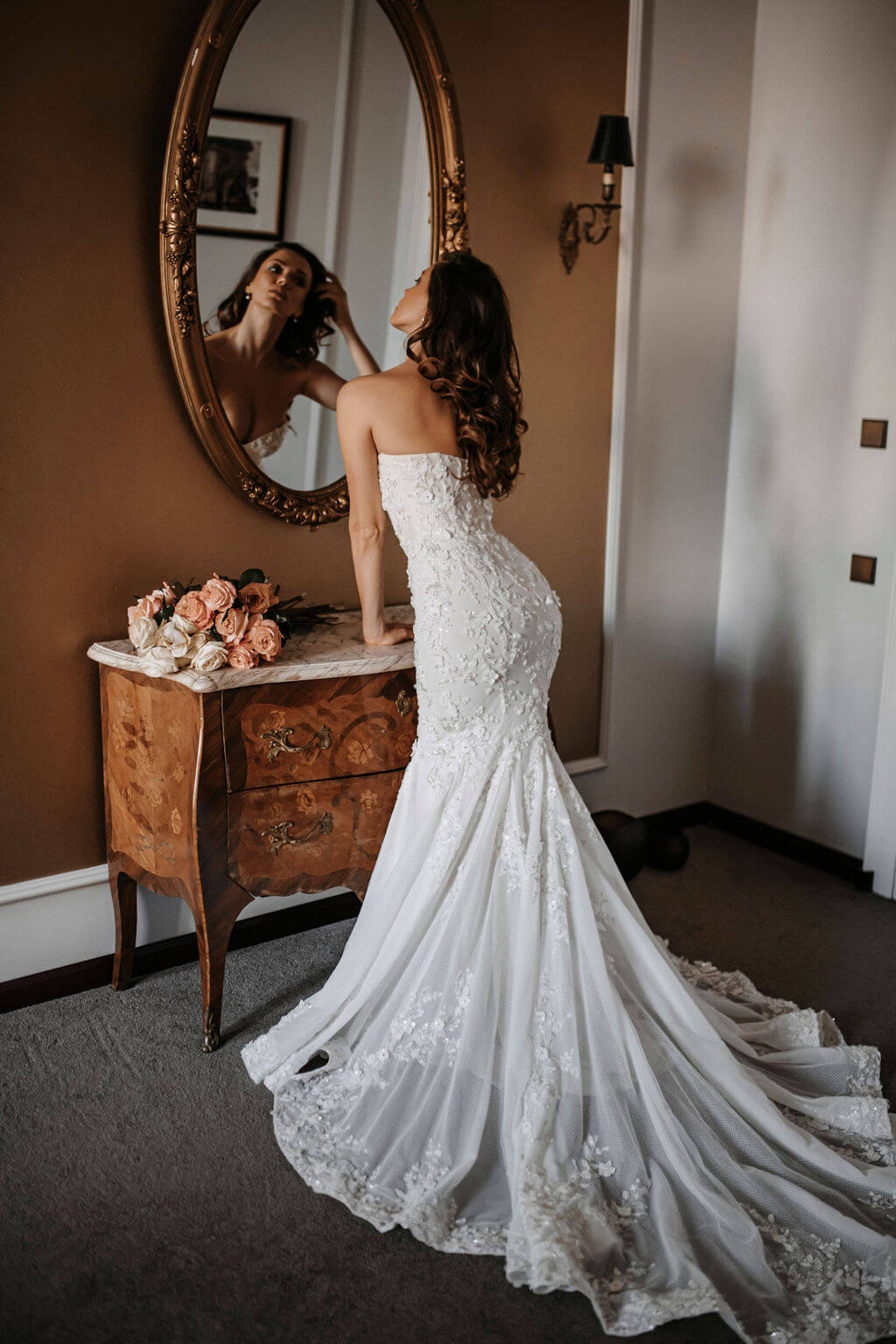 Every bride should feel beautiful on her wedding day, in our opinion at Perla Bridal. You'll be well on your way to getting the ideal fit by adhering to these do's and don'ts of wedding dress adjustments. Allow us to be a part of your path to saying "I do" in elegance by putting your trust in our knowledge and experience.